Our lobby is closed until further notice.
Sorry for any inconvenience this may cause. If you need to contact the office our number is (989)684-3883.
Our office hours are:
7:30am – 12:30pm
and
1:30pm – 4:00pm
Monday through Friday.
New Connections
Please call for an appointment – (989)684-3883
Payment Options
Online –          Make a Payment
Pay By Phone – (855)776-4559
Mail –             3933 Patterson Rd.
Bay City, MI 48706
EFT/Bank Withdrawal (Check or Savings) – For Information Call Office or send completed form with cancelled check.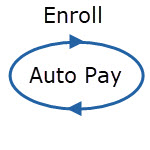 24 Hour Payment Drop Box (Not Responsible for Cash) – Outside the Gate